Helloooo...it's me!!
Ever since I can remember I have always been into arts & crafts and drawn to anything creative. I always seem to want to "make things".
I grew up in NY and went to college at SUNY Albany where I studied math and computers. Eeeek! What was I thinking?!? It wasn't until halfway through that I finally took some art classes which I absolutely LOVED!
After school, I didn't listen to my passion and instead got a job as a computer programmer which then lead into systems analyst and software trainer. I couldn't take it anymore! I had to do something creative so I started a gift basket business called Basket Mania. One benefit of being in the computer field was that I also had friends that were techies. When the internet was still in its infancy, they wanted to use Basket Mania as a guinea pig so I registered basket.com.
Woo Hoo!! I still own it today.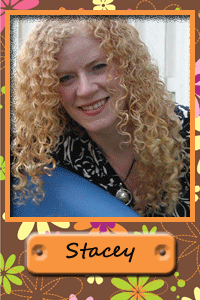 The basket biz was fun because it allowed me to be creative. I really enjoy making things look great. Presentation is so important! I joined a lot of networking groups because I wanted to focus on getting corporate accounts. After my first daughter Olivia was born, I had to slow it down a bit to spend more time with her. Then when Ruby was born 2 1/2 years later, I really had to phase it out because it was just too time consuming. With the baskets, I was trying to be everything to everyone. I never said no to any crazy request. It just got to be too much.

I couldn't stop making things though!

It's All About The Hair

Having curly hair and 2 daughters with the same curly locks, hair is definitely a big issue for me. Trying to control all that fuzz isn't easy. When my sister and I were growing up, all we ever wanted was straight hair and we drove our mother crazy making her try all different techniques to get rid of the curls. Now I just accept it... but I still want it to look good! When I was looking for hairclips for my daughters, I never really liked what I found. I was never into the big bow look and the clips I did find just wouldn't stay in their hair. They were made for thin straight hair. That's when I decided...I can make my own!! I love the hairclips that I make! They have that "oh how cute" factor to them. I wanted the presentation to be just as cute so I package them in clear purse pouches tied with satin ribbon. My girls love them and I hope yours will as well.

Snap Happy

I've always been interested in photography, took some classes, learned how to develop and always took lots of pictures. But ever since my 2 daughters were born, (and having a digital camera) it's gotten a bit out of control! I have tons of pictures and really wanted to get into the scrapbooking thing. I would spend hours at craft stores buying all the necessities - paper, stickers, enhancements and albums. Then what happened...NOTHING!!! I just couldn't get started. The thought of a huge 12 X 12 album was just too overwhelming, and besides, who has the time? Then I came up with the idea of making my own smaller albums and making them a little more special by making them accordion style. I LOVE these albums because I can use all the great paper that I find (I have a bit of a paper obsession) to make cool and interesting covers. The albums are quick to do because basically it fits one picture per page. These make great gifts as well.

I hope you enjoy TotalCityGirl.com. I want it to be a place where Total City Girls such as myself can have a place to find fun and unique items as well as network with other City Girls following their passion.

Enjoy!!